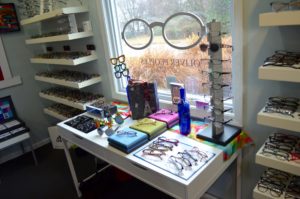 The average consumer likely has no idea of the breadth of products available today in eyewear. Whereas several decades ago options were limited, today people who wear glasses have an almost dizzying array of choices. In lenses alone there are several categories to consider when making a selection. Let's examine this more closely in this blog.
 Progressive lenses allow the wearer to be able to see clearly at any distance. The lens itself does not have the once noticeable line creating an indication the user requires bifocals or trifocals. Instead, the transition within the lens is barely noticeable to others while allowing the individual to see sharply both near and far. It also eliminates the tendency to feel off-balance on inclines.
No-glare lenses are an excellent response to the troubling and dangerous light condition created by various climate features. You may find glare – or a blinding light – from the sun, snow, rain, or in night-driving and there is no question it can lead to a dangerous situation. Today's no-glare lenses are especially cutting edge because they filter out reflections and UV light as well.
Bifocals and trifocals. There are many people who are still more comfortable with the more traditional eyewear model. Bifocals and trifocals provide a discernable division on the lens for people who toggle between looking at something close and then at a distance. It is a common occurrence for people with even the best eyesight to lose their keen sight for viewing images at a distance, close by or even when attempting to read in less than optimal lighting. The medical term for this condition is 'presbyopia' and is not cause for alarm except as a reminder that we are all getting older!
The technology for identifying vision issues and creating items to address these continues to be refined. The customer becomes the true benefactor of this in the form of new and improved corrective eyewear alternatives.
To learn more about the scope of eyewear options available to you, contact the optometry specialists at Island Eyecare. Our goal is to help you see the world with perfect eyesight!