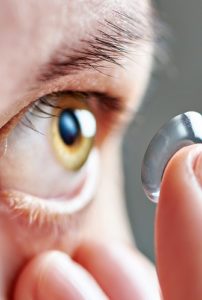 Contact lenses can be a convenient alternative to wearing glasses, but they do require proper fitting and care for the best results. After a comprehensive eye exam, your doctor will consider several factors for contact lenses, aside from your prescription. They will consider the right curve of the contact lens for your eye, the thickness of the lens, and the diameter of the lens. Based on the type of lens, your doctor will also advise you on how long you can wear them and how often they should be replaced.
The doctor, or doctor's assistant, will take time to show you the correct way to insert the lens and how to clean and store them. Typically, you'll stay in the office until they're sure you're able to insert your lenses, be able to tell when they're in, and that you're able to remove them properly. It may take some trial and error in the beginning, but don't get discouraged.
Your doctor should set a follow-up appointment for a week or two later. This visit is as important as the initial fitting. You'll be checked to see how your eyes are responding to wearing contact lenses and if there's any need to change to a different type of lens. If you're experiencing eye irritation or discomfort, it may take one or two changes in contact lenses to find the right fit and feel.
The second visit is also a good time for the doctor to be sure you're caring for your eyes and your lenses properly. It's crucial to keep lenses clean and to store them the correct way to make sure they aren't contaminated by any germs or harmful materials before you put them in your eyes.
It's important to note that if you have eyes that are hard to fit with contact lenses, it doesn't mean that you can't wear them. It means that it may take more time to find the right type of lens for your eye. If you have astigmatism or an irregularly shaped cornea, this may apply to you. Be sure your eye doctor has experience and is knowledgeable about the options that are available. If you're unhappy with the fit of your contact lenses, consult another doctor and be sure they're well versed about all the options available..
See Island Eyecare are experts at selecting and fitting contact lenses for patients with a variety of needs. Call us today to set up an appointment.