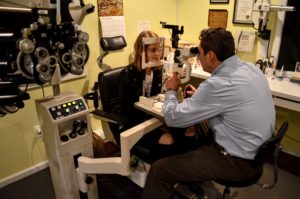 Who doesn't love summer? It is overwhelmingly a child's favorite time of the year. No school. No studying. Sleeping late. Doing all those things you never get to do during the structured school year.
But, all good things must come to an end, summer included. As your child starts the dreaded task of getting ready to go back to school, we suggest you include an annual eye checkup as part of the routine. In fact, this should be a habit for the entire family. People's health changes yearly. One year you, your significant other and your children may be able to see with 20/20 vision, the next year may bring something totally different. Your eyes and vision are subject to the same changes the rest of your body is undergoing.
So, add an eye checkup to your back-to-school checklist. Be sure to schedule it well in advance. That way if your child is going to need vision support, you will have plenty of time to learn about the options and consider them. For example, perhaps your second grader is nearsighted. The eyecare specialist can walk you through the choices that are available for smaller children. If your teen needs eyewear, he or she will have a wider variety of choices to correct their vision.
Academic and athletic success is often directly related to the ability to see things clearly. An eye exam will allow the optician to determine if the child is able to track with both eyes simultaneously, focus clearly, and identify objects to a certain distance with clarity. These are skills that are needed for reading and comprehending and joining in physical activities. Untreated vision problems can exacerbate a child's school and play performance. Children who have never had 20/20 vision may not even be aware they are struggling with less than perfect eyesight. They may think their problems are related to something other than their ability to see clearly.
With this in mind – don't you think it is important to add 'visit the optometrist' to your back-to-school list? While you are out shopping for shoes and backpacks, school supplies and lunch boxes take the time to squeeze in a visit to your eye doctor. It may be the most important thing you do for your child this summer!
If you are in need of vision services, the experts at See Island Eyecare would like to invite you to make an appointment with us. We have a staff of seasoned professionals who are certain to make you feel welcome and cared for. See you at See Island Eyecare.